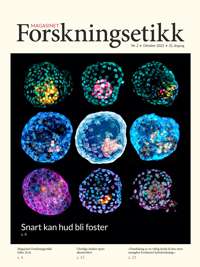 2021-2
Journal editor: – A lie can travel around the world in a few hours
Publishing preliminary findings can lead to researchers making important corrections. But credibility can also be compromised.
The Magazine Research Ethics is an independent magazine on research ethics and research integrity published by the National Research Ethics Committees (FEK) in Norway. ISSN digital edition: 2387-3094.
From this issue we give you an article on the problems arising from publishing preliminary finding. And we tell you the story on how part of vaccine scepticism seen today can be traced back to an experiment 40 years ago.