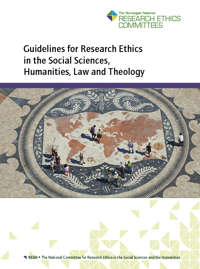 Guidelines, NESH 2016
Guidelines for Research Ethics in the Social Sciences, Humanities, Law and Theology
Given by The National Committee for Research Ethics in the Social Sciences and the Humanities (NESH) in 2016 (4th edition). NB! Updated guidelines (5th ed.) were given in 2021.
The updated guidelines (2021) can be found here.
Are you looking for the previous version of the guidelines, from 2006? Download as pdf.