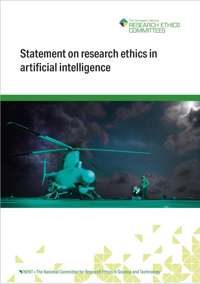 Statement, NENT
Statement on research ethics and artificial intelligence
Given by NENT in 2019 (Norwegian). First translation published in October 2020.
Only available digitally.
All global superpowers have a stated goal of becoming leaders in artificial intelligence (AI), and this field of research is developing rapidly. AI already affects most areas of our modern society. At the same time, prominent researchers and business leaders have expressed concern about this development, especially with regard to self-learning systems that are not only taking over routine actions, but radically changing and expanding people's scope of action. The further development of AI technology, and the uncertainty associated with what the consequences may be for people and society, require a considered approach, also on the part of researchers.
This forms the background for NENT's statement.